Cabinet Refinishing Boulder Co.
Serving all of the Metro Denver Area and all of Colorado including Superior , Lafayette and all of the northern range including Fort Collins Colorado
Cabinet refinishing Boulder, has been family owned and operated for over 30 years our number one objective is to provide the finest, kitchen cabinet refinishing and cabinet painting throughout the entire Northern Colorado area.
Our determination to fulfill the mission has created a self-contained technology advanced finishing process that matches craftsmanship with the quality work we do. Every finish is produced with the utmost care and attention to detail before being paired with some of the finest materials in the market; allowing us to provide clients a truly custom creation.
Transform your kitchen in just 3 to 5 days! Kitchen Make-Overs can help you transform your old, dated and ugly kitchen cabinets into a modern, functioning, showcase kitchen! And we can do this for half the price of refacing and a fraction of the cost of a remodel. This is a popular option because you get the remodel look, without the remodel price.
We start by refinishing your existing cabinet doors and drawer fronts in paint grade, stain grade or RTF (Rigid Thermal Foil) materials. We offer these range of options to accommodate your taste and budget, we have something for everyone! Our new refinished kitchen or bathroom doors include a factory finish that is like no other. Here at Cabinet refinishing Boulder we do not do any brushing or rolling and everything is applicated with HVLP guns and double Orphus fine finish tips.
We paint and clean & restore your cabinet boxes, depending on your specific project. Kitchen Make-Overs does offer cabinet modifications and can build and install miscellaneous cabinets as well. We can remove and replace existing cabinet drawer boxes which includes full extension, soft-close hardware and also roll-out shelves for pantries or for pots and pans. Services include upgrade or changing out crown moulding, replacing cutting boards and installing tilt-trays.
Did you know that real wood kitchen cabinets attract more grease, grime, and dust than any other area of the house? Sometimes a good cleaning and restoration is all that is needed. Overtime, kitchen cabinets can get scratched, worn, and discolored due to steam, sunlight, water or just everyday use. Rather than spending tons of time and money for a complete renovation, consider a more cost effective solution. Cabinet Refinishing Boulder can restore and will save your cabinets and your pocket book. Kitchen cabinet cleaning and restoration is a proven, easy, effective way of preserving your existing cabinetry and save you from the hassle of expensive remodeling and the inconvenience of completely reinstalling a new kitchen. Make your kitchen look new again in the most cost effective way. Schedule your free estimate today!
People are discovering they don't have to reface or replace their cabinets to have their old, worn cabinets look like new again. Cabinet Refinishing Boulder has been in business for over 30 years and we are experts in the cabinet restoration industry. We also Denver Co. Aurora Co. Larkspur Co. Castle Pines Co., Loveland Colorado, Northglenn Co., Boulder co., Parker Co. . Lakewood Co. Jefferson County, Adams County and Douglas County Fort Collins Colorado, Colorado, Thornton CO, Arvada CO, Wheat Ridge, Broomfield CO, Brighton CO, and Cherry Hills Superior, Mead Colorado, . With our cabinet restoration service, we can save you thousands by renewing, restoring and revitalizing your
existing cabinet finish to a like new condition usually within a few days. Our service includes cleaning the entire cabinet surface to remove any build-up. Next, we follow-up with a wax wash, repair the color in damaged areas and finally we apply three coats of a hard, clear finish to protect your cabinets (we don't just clean and apply oil like some other companies do).
With over 30 years in business, Cabinet Refinishing Denver has the knowledge, reputation and experience to help you with your kitchen cabinet transformation. Call us today for more information or a free estimate at 303-591-8029
Cabinet Refinishing Denver, also paints Items like Dining Rooms Bedroom Sets, Pianos, End Tables, Entertainment Centers, China Cabinets, Credenzas Built-In Cabinetry, Moldings, Handrails, Stair, Rails, Doors, Frames, all types of Wood, Desks, Conference Tables, Chairs, Kitchen Cabinets, all types of Kitchen cabinets, Pianos, Outdoor Furniture, Furniture painting, Kitchen Cabinet Refinishing.
" Cabinet Refinishing Boulder." Services, Denver Co. Superior Co., Boulder co. Lakewood Co. Mead Co., Jefferson County, Adams County, Fort Collins Colorado, Loveland Colorado, Northglenn Co, Broomfield CO, Westminster CO, Arvada CO, Wheat Ridge Co, Golden CO, Thornton CO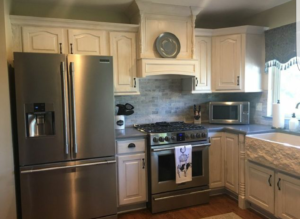 If you're looking for the right company to get the job done right the first time give us a call. Also you can click on the link below for cabinet refinishing in Boulder Co. Tips.